---
Tuesday, May 11th, 2010 | by matthew mcglynn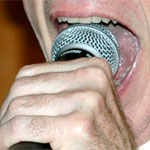 Call me phobic, but yes, I wonder what's growing on the grille of the SM58 at the brewpub downtown.
I've seen a virtual parade of singers eat share that mic over the past few months. Some were good. Some, not so much. But some of them looked like the people in the video below: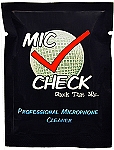 I first saw that commercial at the Winter NAMM show. The product advertised therein, "Mic Check," was simultaneously the most immediately compelling and least expensive thing I saw at the show.
All the grocery stores around here have a dispenser with alcohol wipes near the shopping carts, so shoppers can wipe down the handles (and, presumably, their hands) before going into the store and squeezing all the avocados or whatever. The thing is, the dispensers are nearly always empty. The stores can't keep those things full — the demand is too high.
Which tells me that (a) I'm not the only shopper worried about who else squeezed the avocados, and, in a roundabout way, (b) if I could sing, I'd bring my own microphone to the brewpub.
At $0.60 apiece, these Mic Check alcohol wipes are a lot cheaper than buying one's own microphone. And it seems like a small price to pay to not share gastrointestinal flora with every other musician in town. Especially that woman with the big herpes sore on her face.
What's the difference between Mic Check and the alcohol wipes they sell at the pharmacy? Both are (most likely) 70% Isopropyl alcohol. But the Mic Check pads are bigger, thicker, and contain a mint fragrance to mask the aroma of the beer (and herpes) soaked into the mic's internal foam pop filter.
By the way, mint oil is an effective natural pesticide, but unless the mic has ants on it, it's really only helping with the smell.
I picked up a sample of Mic Check at the NAMM show. I'll put it in the mail to the first commenter (US addresses only, please)… Just promise to send back a brief review.
Yes, you can hold the review until your labwork comes back.
Update 2010-07-07: The makers of Mic Check have kindly sent me a box of product samples. If you want a couple to try out, see the giveaway details here.
Posted in Live Sound, Microphones, Video | 7 Comments »
---
---
---