---
Thursday, October 8th, 2009 | by matthew mcglynn
My friends at MXL just got in touch to announce a year-end promotion called "Trade It Up." Bring in your old MXL mic, dead or aive, and swap it for a $50 discount against the purchase of a new MXL Gold 35, V67i Tube, V69XM, V89, or MXL R77.
If you're not up on the current MXL Studio Collection Series, here's a refresher…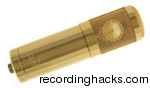 The Gold 35 is a large-diameter FET condenser, designed specifically as a vocal mic for producer Benjamin Wright, who commented after a shootout, "the gold mic kicked the 87's ass." (Read my interview with Ben Wright.) If I were in the market for a vocal mic, the Gold 35 would be on my short list.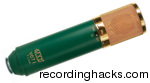 The V67i Tube is a unique dual-capsule tube mic with a "warm/bright" switch that allows selection of the front "warm" capsule or the rear "bright" capsule — which adds about 6dB of response above 4kHz.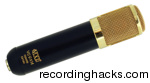 The V69XM is a new mic, based on the successful V69 "Mogami Edition." It uses the same proven 32mm large-diaphragm capsule and the basic tube amplifier circuit of the V69ME, but replaces the ME's transistor-based output circuit with a transformer.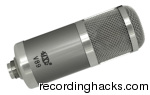 The V89 is MXL's all-purpose studio condenser mic. They've coupled their 32mm large-diaphragm capsule to a clean transformerless FET amplifier circuit, but derived some sonic magic by packaging it in a 64mm-diameter case. The oversized headbasket reduces reflections and resonances that could otherwise muddy the mic's sound.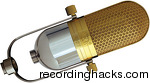 The R77 is an upscale yoke-mount ribbon mic with vintage styling. It comes in a kit with a desktop stand, a Mogami XLR cable, and a padded storage case.
The terms of the promotion limit the rebate to one per new microphone, although if you want to buy multiple new mics you can trade in one apiece.
The promotion expires on December 31.
Tags: mxl, promotion
Posted in Microphones, News | 3 Comments »
---
---
---