---
Monday, February 23rd, 2009 | by matthew mcglynn
Violet Designs, one of the two microphone companies spun off of Blue's original OEM in Latvia, has released a DVD called the Violet Design Story. It's a slick 5-minute tour of the company's value proposition, with some nice pictures of the factory and the mic components manufactured therein.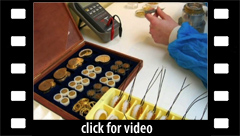 It's less than 6 minutes long, though, so it's easy to watch the video in its entirety here:
Although Blue is not named, the Violet/Blue dispute over intellectual property is touched on briefly:
In the late 1990's [Juris Zarins] began designing and manufacturing a line of condenser microphones with another company. The line became very popular as artists became familiar with the products, and the test reports in the magazines were glowing. This continued for several years until a dispute ended that relationship.
That Zarins went on to create another line (or two if you count the JZ products separately) of innovative microphones is fascinating.
A couple interesting points from the video: All Violet products are handmade in Latvia, and pass multiple QC inspections and an audio test prior to shipping. All the Violet mics use JZ's original capsule designs — unlike, for example, most Chinese-made condensers, which use a copy of a Neumann capsule (usually K67).

The video gives additional detail on Zarins' microphone capsule designs, and some beautiful close-ups of bare capsule assemblies that I have not seen reproduced elsewhere.
The capsule diaphragms are coated with gold, aluminum, and different gold mixtures to reduce distortion and increase SPL capability. Several sputtering patterns are used, depending on the capsule. Irregular thickness, segmented, layered, and combinations, all designed to reduce circular resonance distortion and increase SPL.
The video is a lightweight infomercial for Violet Design and to some extent for JZ himself, and as such does a pretty good job of selling the benefits of the company's products and visionary leader. But I sure wish they had come up with some actual video footage. Many of the still images, presented here in full Ken Burns™ glory, have appeared in the "Factory Tour" section of the original Violet website for years. Couldn't they have produced some video of endorsed artists using the mics? Or of the factory machines in action?
I give them credit for showing as much as they do; most mic manufacturers are unwilling to publish any manufacturing details for fear that a competitor will learn something actionable. I could even name a couple mic vendors who would weld their microphones' bodies shut if it were at all defensible, to hide the components used inside. So, kudos to Violet for what's been done. Let this serve as an invitation to other manufacturers to do the same.
Tags: juris zarins, violet designs
Posted in Microphones, Video | No Comments »
---
---
---