---
Monday, September 8th, 2008 | by matthew mcglynn
Attendees of TransAudio Group's first Audio Underground Roadshow, held at John B.'s The Hangar studio in Sacramento last weekend, were treated to the first public demonstration of a fabulous new microphone from Bock Audio.
Bock's new model 507 microphone won't be officially announced until AES in October, which is why I'm staying up half the night to write about it now. This microphone sounds killing. We heard it on male vocal, where it captured gorgeous detail and a balanced sound without losing the forgiving nature of traditional large-diaphragm mics. Pulled back from the singer, it captured acoustic guitar and vocal together with an impressive intimacy and again a remarkable balance.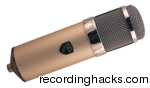 There's magic in the capsule. Unlike practically every other condenser mic on the planet, the forthcoming Bock Audio 507 microphone employs an elliptical capsule. "It is less resonant than a round capsule," says designer David Bock. "We end up getting a very clear high end without a lot of mess on it, and it's balanced out by a very full low end."
Elliptical microphone capsules were invented and patented by George Cardas of Cardas Audio and David Bock, formerly of Soundelux and currently selling a small line of high-end condensers under his own name, Bock Audio.
Below the groundbreaking capsule is, ironically, a very dated circuit design. "It took a while to find the right package to marry it to," says Bock, "and we settled on the ancient U47 design." I find some irony in the idea that a capsule invented in 2004 sounded best with an amplifier circuit invented in about 1947.
The 507 microphone has been in development for five years. An extended field-testing program has proven both the design and the manufacturing process. Bock expects to be shipping the mic by December.
Read more about the Bock Audio 507 in the mic database.
Tags: audio underground roadshow, david bock, hangar, john baccigaluppi
Posted in Microphones | 2 Comments »
---
---
---